Sharp Tooth Kennels Treeing Walker Coonhounds Artemas PA
Sharp Tooth Kennels
"The hollow where legends are born."
One of the last breeders of the Original Lone Pine Finley River bred Treeing Walker Coonhounds.
Located in Artemas (South Central) PA
By Lavena Jenkins
In Memory of Stephen Jenkins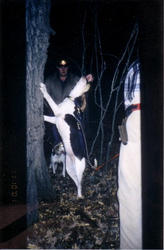 Treeing Walker Lone Pine Breeding
Our hounds are bred to be extremely fast and accurate. Loud bawl mouth on track and bawl/chop on tree.
Steve's philosophy was "Speed Kills" and can be seen in many of the hounds at Sharp Tooth Kennel. We breed smart long legged and very fast hounds. They run with their heads in the air but are also very adept at cold trailing to get a track started. Most of our hounds have big bawl mouths that can "rattle" the mountainside.
We are fortunate to have a great mountain area in which we can let our pups roam for the first 6 months or so to become "acquainted" with the woods and its smells. When ready they are familiar with many of the smells they may run across on tract and in a hunt. We also will expose our dogs to not only big mountain but a wide variety of hunting environments to create a well-rounded hound.
Steve had been hunting coons, big game and training hounds for almost 50 years.
Coonhunting was introduced at an early age when working at Gene Harrison's farm in Woodbine, MD. As a young tyke hunting with his dad Truman, and Gene; Steve would help train dogs night after night, As he became older he became a handler for Gene, hunting every night, sometimes all night long. Sonny Everhart was the other original handler and they each had specific hounds they hunted to see if they had what it took to become part of the Lone Pine breed. In order to obtain the high quality hound for the Lone Pine breed consistancy was a must. Many times Steve would hunt a dog 100 nights in a row, regardless of the weather, to see if the hound would make it or not. Steve has hunted most of the legendary greats of the Walker breed and can tell you about many hounds you read about in history books or in your 7th generation of your pedigrees.
The Story of Lone Pine Finley River hounds
Lone Pine breeding was introduced by Gene Harrison, Donald Warfield and Stanley Duvall who were determined and relentless in creating a line of hounds that was the absolute best coonhounds in the world, bar none. That was the only agenda. The hound they were looking for must be fast, accurate, hardhitting tree dogs with the incredible tracking ability. These men searched nationwide for the best hounds that displayed these traits to breed together to create the Lone Pine Breed. That's where Finley River comes in. Lone Pine Lady, an exceptional female coonhound that had the qualities they were looking for, was bred to Finley River Chief, Finley River Spike, Finley River Pete and several other fine males, to become the base of the legendary Lone Pine hounds. The criteria to be chosen was very very strict and only the best were selected.
Steve, just a boy at the time, was sitting on the front porch at Gene Harrison's front porch when the Lone Pine breed was named. Gene, Donald and Stanley were on the porch along with Steve. They were trying to decide upon a name for this extraordinary type of Walker hound they were working on. Gene had a lone pine tree in a big field on his farm down in front of where they were sitting. He looked at the tree and said why don't we name it Lone Pine, the other two partners agreed and that tree became the trademark of some of the best coonhounds for tracking and trailing in the world. This is the original beginning of the Lone Pine Breed.
Our Lone Pine dogs today are built on that solid foundation these gentlemen started many years ago.
Exceptional Finley River bred hounds which are renown for the tracking ability were a main ingredient in the original Lone Pine mix of hounds that took the world by storm almost 50 years ago. These same dogs are in our pedigrees over and over both in sires and dams of our Lone PIne Finley River hounds. These are the hounds found at Sharp Tooth Kennels. Steve believes good dogs are made in the woods. We are not about degrees and certificates although our dogs do have them. From Dual Grands to winning at Walker Days to finishing 8th in the World Hunt, our hounds have done it all. We hunt our dogs relentlessly on coons, bears and cats and are striving to maintain the standard set many years ago. We continue to strive for the best, most solid reliable coon and big game hounds.
We have several exceptional hounds standing at present for stud. We are available if you would like to see them in the woods, yours or ours, any weather condition.
Congratulations Chrissy and Bruiser - showed at Autumn Oaks in the kids bench show and is getting their pic in Bloodlines!!!!! Good Show!!! An up and coming handler for
We currently have 2 beautiful females
available
out of STK Lone Pine Sharpshooter Annie and Stk Lone Pine Timber
Buster-ready to go!
Congratulations to Christine Mummert "Chrissy" and Brad Stottlemyer with Lone Pine Bruiser. A beautiful male out of Sharp Tooth Kennels Clementine and CH Lone Pine Finley River Jenks.
CONGRATULATIONS TO Lorrie Case & Finn (a beautiful hound out of Katie2 x Hercules!) Congratulations to our Instructor Lorrie Case and Finn on their FIRST NW3 Title!!!! Every trial this team titles!!!! The future is bright for this team!!! GREAT JOB!!!!!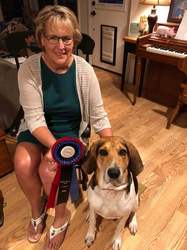 Sept 24, 2018
Lavena,
Just wanted to give you an update on Finn.  Yesterday he competed in his first level 3 nose work competition and he rocked it!  He was such a good boy.  It's only his third full day trial and he worked beautifully and was very clear in his alert.
I also received multiple compliments on how handsome he is.
Next week we try for an obedience leg.  He heels like nobody's business but does get distracted.
Just not the same as nose work.  Regardless, he always puts his heart into all he does.
Thank you.
Lorrie
Our pup JR out of NITECH Lone Pine Wing Dinger htx x CH Sharp Tooth Kennels Vicky has got a 1st place Registered win in a UKC hunt at the 2016 Christmas Classic at Berkeley Springs WV Dec 10, 2016. 300+ Handled by Billy Boggs! WAY TO GO!!!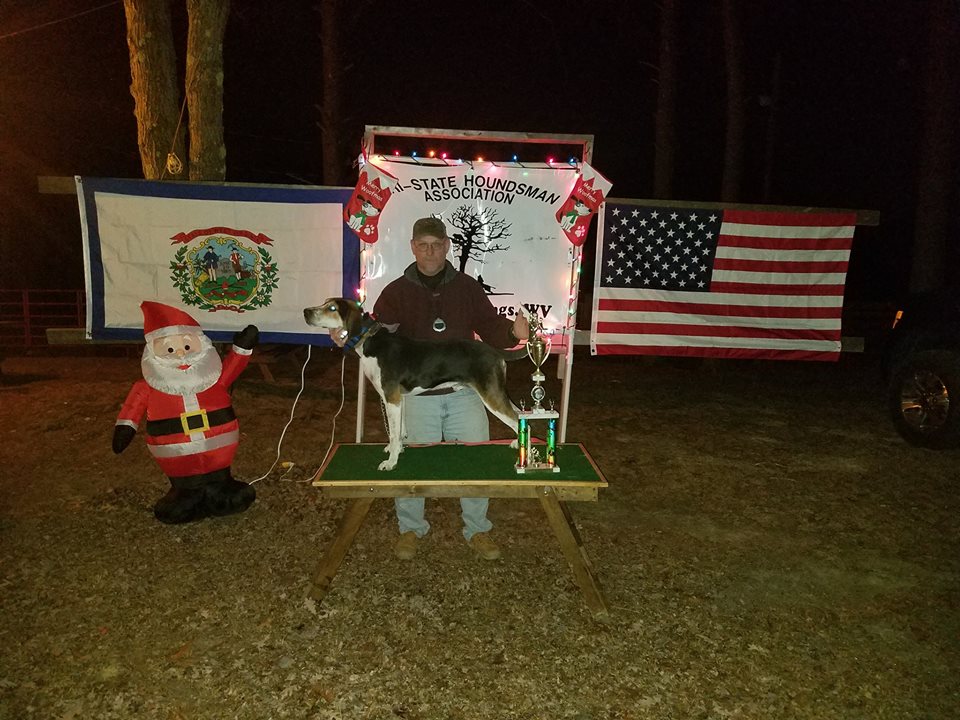 PU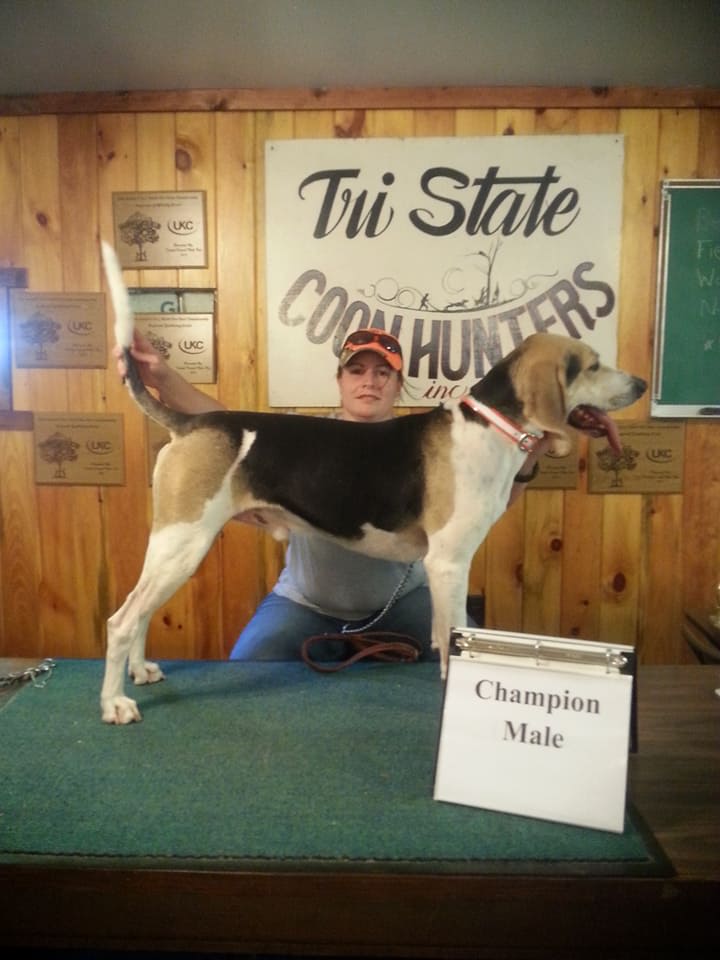 Congratulations Ranger! Owned by Dani Mummert this beautiful boy out of STK Lone Pine Ali-Gator x GRCH Hercules is now a GRAND CHAMPION. Finished at Meyersdale on 8/4/17. Great job guys!
Robbe Baer's Charlie (6 mos) Ellie Mae x Winger Jr. cross
5/1/17 - Hey Lavena,I've been working with charlie quite a bit.The picture that comes with this text is the second coon that charlie has ever seen. I worked him a bit then dragged him into the house when he escaped 15 minutes later. He went right to the tree but the coon was gone. I have a log pile 10 yards away where the coon went. when charlie found him, he went right in after him and they got right into it. I had to grab him by the back legs and drag him out. I now have a coon about 100 yards in the woods to train with tomorrow and he has smelled him out. He's coon crazy.
I guess what I'm saying is that I couldn't get rid of my pardner if I wanted to. I can't walk without tripping over him. I've got a good feeling he's gonna turn out to be a good hunter. I'll keep ya up on his progress. I ran him on another one this morning. He almost tore the trap apart
Robbe (Baer)
2/17/17 - received from Roger Lenhart - Bonnie, a beautiful female out of Sharp Tooth's Patty x Sharp Tooth Kennels Hercules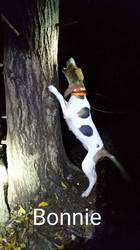 11/7/16
Congratulations to Vicky & Roy Brachfeld of NY for the their dog "PIE" or LONE PINE SKULL n Bones making Grand Nite CH. But not only that look at the message from Vicky
"PIE" -Finished his GRAND NIGHT CHAMPION Saturday Night and now becomes - The ONE and ONLY "THE FIRST"
GCH, GRCH, GRNITECH, GRFCH, IntCH, IntCntlCH,
Lone Pine Skull N Bones vom STK CGCA TDI
HTX
THANK YOU to the BEST friends and Breeders that made this possible - Steve Lavena Jenkins /Sharp Tooth Kennel Angel Caraccia Leah Ann RamseyRod BolsterLindsey Harris Wedemeyer - WE DID IT!!!!! PIE and I LOVE YOU ALL!!!
(AKC Grand Champion - UKC Grand Bench - Grand Field - Grand Night - HTX - International Champion - Intercontinental Champion - CGCA - TDI - AKC Multiple Group Placing - )
PIE is out of our Sharp Tooth's Lone Pine Sassy x Lone Pine Ricky. Ricky is a son our old GRCH Lone Pine Kate.
A job well done for an incredible hound, with the conformation for show and the nose and hunting ability to excel in the woods. He truly is what legends are made of. Congratulations guys.
Thomas Sutphin sent this pic and testimonial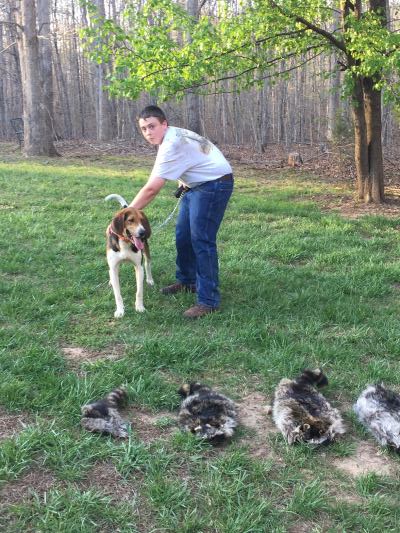 5/5/17 -Updated pic received from Tommy Sutphin in Virginia. His name is Preacher - He is an Ellie Mae x Hercules pup. Looks like he is doing a fine job for you! He is an early 2016 pup.
12/2016 - Here is a email received from Tommy Sutphin in VA about Preacher!
Trees last night doing great.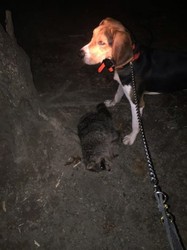 Nice job Tommy! Keep us posted on his progress!!!!
Tommy has just purchased another pup! A beautiful little female out of Pearl & Cochisse! She should be a real nice addition to his kennel!
1/17/17 - A great pic from Zach Gooch. Zach just purchased a beautiful Ellie Mae x Winger pup from us out of our most current litter. Approx 3 months old treeing on a bear hide. Great Job Zach!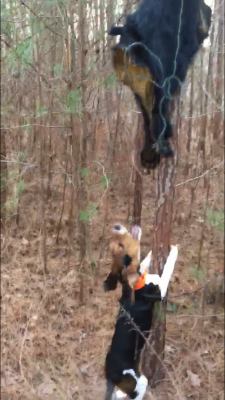 Here is a 2015 Ellie Mae x Hercules pup owned by Bruce Myers of NJ.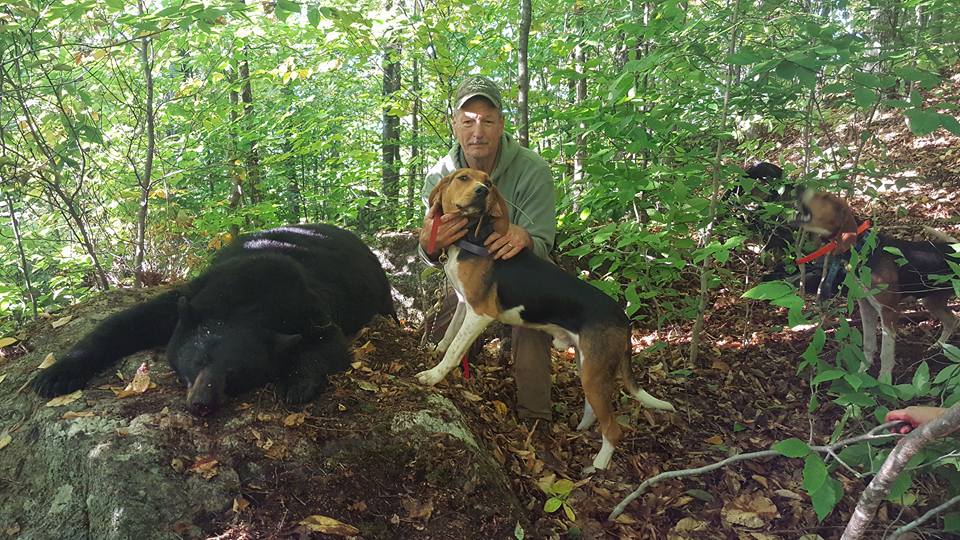 Bruce called 11/2016 to let us know what a nice job the pup did on his first season of bears. Read more on Bear Hunt with Sharp Tooth Pups!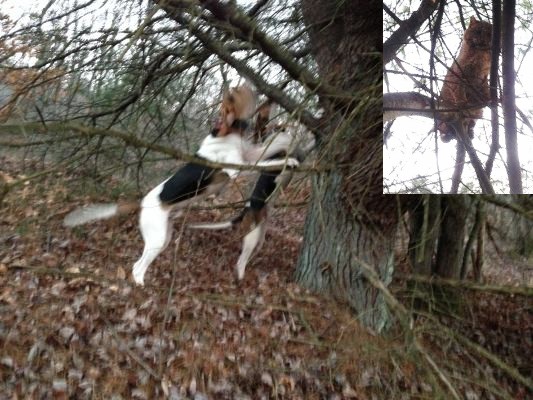 Received an email 11/14/16 from Allen Vollmer (Ike shown above)
Hello Steve and Lavena. Just wanted to let you know my pup Ike who is almost 11 months old was in on a bobcat race today. He did a good job on track and tree. There is a lot of pup in him around the house but when he gets a nose full of something that he wants he really gets to work in the woods. He is out of Hercules and Ellie May 12/24/15. I have owned a few hounds but only one that was truly good. This pup fro you is going to be a good one. He has charactger, drive and a willingness to please. I will try to send some pictures. Thanks Alvin Vollmer
This was a good cross. Also received a phone call from Bruce Myers from NJ who also got a pup out of the same litter of Hercules and Ellie May. His pup had a wonderful year running bear in Maine. He said considering his age (10-11 months) he did a phenominal job. Feels he is really gonna make a nice bear hound.
7/17 Heard again from Bruce Myers from NJ. " Buster is doing great job strike to tree My first day out and the first strike in Maine"starting the training season this year. Speaking to Bruce later that week he stated that he looks for this to be a great year for this young hound.
Got a great letter from John Sergi from Myakka City FL Aug 2016
To Lavena and Steve
Hey, Sorry it took so long to write. But I have been coonhunting. Thank you for Buddy. Best Hound I ever had. He is 2 years old now and I really did not have to do much. He was on it. He hates a coon and he trees hard. Good mouth on a truck. Very happy with him. Great with other hounds and by himself. Don't have much more to day. Buddy does it for me. All I can say is this. Fella hunters, you want a hound, then Sharp Tooth Kennels is the place to get one. Thank you again but its time to go tree a coon.
Thank you. John Sergi.
I have since received more calls from John. John has been buddy hunting Buddy in FL and has won over $1500 in "gentleman hunts". He is currently getting his UKC and PKC paperwork and going to do some serious hunting. From what I understand he is getting to be quite the hound in Florida. Good Luck John & Buddy. Have fun and keep us updated!
August 2016 - Received the following from Lorrie Case -
Hi Steve & Lavena
Just wanted to tell you that Finn was in his first nosework trial ever yesterday. He earned his title. He was super! I was so proud of him. We had so much fun! Thank you so much for him. We are looking forward to more trials and fun! Lorrie (Finn is a Sharp Tooth's Lone Pine Katie2 x GRCH Sharp Tooth Kennels Hercules cross.)
Hoss, a beautiful Sharp Tooth Lone Pine Katie2 x GRCH SHarp Tooth Kennels Hercules cross running bear in Washington State. Owned by Tyler Peasley. he is the grey silver walker shown. Here is what Tyler says about him. "He's been a phenomenal bear dog for me up here. Would like the chance of buying a female bred similar to run on big game.
Hoss has been amazing from truck to tree for me. I've never had a dog out work him on the box. He's also proven to have a good nose to get the older cat tracks moving. And not to many dogs around here that bay as hard as he does. He likes getting close! Last week he ended a 6 hour bay in the corn fields on three legs with his pack of 4. I love bear bays and love a gritty dog that will stick around to get the job done!" Thanks Tyle
Hi Lavena
Update from the McClains received 2/14/16.

Hi Steve and Lavena We were just writing with an update on Daisy She is a female out of Lil Lone Pine Francis and Buck 2 She just turned 2yrs old in January and has grown into a very nice looking , long legged ,70# female Since we have written last she is still doing wonderful She's still consistent and very fast We ve been considering maybe looking into going to a youth hunt with her and my son But we're really not sure of that yet. I do want to say probably 8 out of 10 times we hit the woods with Daisy within 15 to 30 min she has treed if not before and that makes a really good dog to hunt kids with when they need to be back home early because of school the next day So our hunts normally consist of tree 1 and head home. I also want to add to her history Daisy is very much a part of our family's every day life she is around us and visitors of our house everyday I've never seen a hound with as much attitude and personality as her Ya know maybe its from always being trained and hunted alone I have to say we've never had an issue with her running off game either. And with in saying this I would always recommend your kennel and breed to anyone. Thank You The McClains
Update from the McClains 4/27/17: Hi Steve and Lavena
This is Ralph McClain. I am E Mailing with an update about Daisy in January she turned 3 years old So at the time of this e mail she is
3years and 3 months old April 24 2017. The reason for e mailing you is to let you know in the last year and 1 month
we have had Daisy in 9 or 10 night hunts. Probably as you know as a very experienced hunters not all of them has
went smoothly. But I feel that its went ok. Daisy has had 2 first place and a second place wins. So which should
be enough to earn her a Night Champion title. Which we are pretty proud of especially never having intention when buying
her to do anything like this. My son Jesse has done all the handling and calling at the hunts and he has been 15 and 16
years old at the time. And myself I never did anything like this before either. So this was all new to all three of us.
And what an experience its been. LOL But a lot of fun too. Just for a refresher Daisys parents are Buck 2
and Lil Lone Pine Francis. Gotta say at these hunts Daisy is a very independent dog. Always gets off to her self and
will never go join in with other dogs on track or tree. Literally watched her come down through the woods one night
climb up on a tree a dog was treeing on smell around never barked got down and went down through the woods and in
about 10 min treed her own coon. Very very independent But at home here She is still our family pet and still
very involved in our every day life. Ok if I am wrong about her title stuff please straighten it out
for me.
Thank You
The McClains
No Ralph, you are not wrong. Congratulations Daisy is a Nite Champion!
Steve Lavsa's dog "Hammer) (another Lil Francis x Buck 2 pup)
I decided to check out your website today and I noticed you just did an update from the McClains and when I noticed the litter info, I seen that it was my pups (Hammer) sister. He was out of Lone Pine Lil Francis and Buck 2. He was the only one that didn't have the full saddle markings. He's a little on the small side probably a touch under 70 lbs (looks the... same size as McClains female).
I just figured I'd shoot over a couple of pics of my dog Hammer. We bought him to be a house pet but he was just coon crazy from the time I first showed him a caged coon so we figured we had to hunt him. I don't compete with him, but he is a very fast hunter and trees in short order. I've thought about entering him in a hunt but he seems to do much better on his own. (I noticed McClains hunted their pup solo too, hammer does it all on his own too) He would do great at one of those hunt tests where he's by himself. Cut him loose, he will open by chopping on the trail and starts to bawl hard once hes treed.
Either way, I just wanted to share that with you to let you know that you did have another pup out of that litter that is still doing great and is a good hunter.
Steve Lavsa
More on Pocahontas, owned by Zach English

Hey guys just wanna give you an update on Pocahontas, been over a year since I've talked to yall. She's won dozens of hunts, plenty of money and treed hundreds of coons in these past 4 years. She'll be 4 in April not to mention she is now a Grnitch Fch Wch Grch. The picture above is where a 14 yr old Cameron Platts handled Poca in the 2016 ACHA state youth hunt and she took the hardware with 400+! We are currently chasing the CHKC elite race with hopes of getting a truck ticket and we plan on attending the CHKC World hunt in Kentucky in march!
And for those who question if they make excellent companion or family dogs here is a testimonial received 1/6/16 from Susan Kenney & Lyle Green
It's Susan Kenney and Lyle Green with Jagg - Lone Pine Francis x Lone Pine Wing Dinger
2010 cross. Just wanted to shoot you an email to show you updates on Jagg!
Jagg just turned 5 this past August. He is about 65 lbs, loves adventures and being
outside. Thank you again for giving us such a wonderful puppy!
Per Stephen: First live coon she and the plott pup ran, bayed for about 15 minutes and then treed it barking every breath before shooting it down. Great Job Stephen! Looks like you have the makings of some real nice hounds to add to your fine bear pack
2/21/16 - Just received a phone call from William Brooks with Lone Pine Zoe's Meltdown (a NITECH Lone Pine Cowboy's Jody x Sharp Tooth Kennels Goliath cross) Zoe qualified for the World Hunt last night! Congrats to William and Zoe and all your hard work! Best of luck to you at the zones!
I know I have other testimonials to go through and post so please be patient! And Thank you for your continual updates! Please keep sending them!
SHARP TOOTH LONE PINE PUPS
DUE ANY DAY - Lil x Jenks pups! Check out litter information page! .
More exciting crosses on the way! We will have more on the ground soon. Check out our Pups for Sale Page and Litter Information Page for upcoming crosses, Parents pedigree info and pics.
Email now to check availabity of current or of upcoming litters at sharptoothkennel@juno.com As litters are confirmed we will update our Litter Information page, Pedigrees are found on that page as well. Any questions, please email us at sharptoothkennel@juno.com. Reservations for pups are recomended.
There is currently a article about one of our pups out of Lone Pine Paige in July 2014 American Cooner. Check out page 38 and read about Newbie, the little coonhound that could.
Testimonials!
Roger Kloepping from Illinois purchased a pup from our spring litter. He got a beautiful female, Reba, out of our Wild Annie x Bandit cross which is currently 3-1/2 months old. Here is what Roger had to say about his pup at 11 weeks. "Lavena , I am pumped i caught a coon last nite for 2 older dogs put the coon in the back seat of the car had little Reba in the front seat with me, soon as she smelled it her hair came up she growled & barked at it all the way to turn it loose , then barked at it with the older dogs. she is awesome i bet this will make Steve smile it sure does me. i will keep you posted have a great day i am." Roger, and in another email he states" At her age that is something to brag about, i told you she wasnt afraid of anything haha. Have a great day. Roger
Update received 6/14/13 Hi Lavena, Went hunting last nite took Reba along my Frost dog got treed Reba and i walked into the tree Reba began sniffing around on some limbs leaning against the tree and began treeing. She continues to amaze me... have a good day Roger Thanks Roger...we look forward to hearing more about this beautiful pup.
Another testimonial received 3/3/14 about a pup from our Spring 2013 Wild Annie x Bandit litter from Ricky Haines of VA.
Hello Steve and lavena

Its Rick from Virginia just wanted to give you an update on Joyce who is out of Wild Annie and Bandit. She has turned into a coon treeing machine by her self or with company. i have been hunting her with a male dog who is only one win from grand and he is the real deal but i can tell you one thing about her she just turned 11-months and 4 out of 6 times she is first to stike and first to tree with the meat i had a guy wanting to buy her for 1500 dollars the other night told him no amount of money could buy her the
only down fall is she will bump a fox from time to time once i get a handle on that i may even put her in some night hunts so far nothing i have hunted her with could even touch her. Rick Haines Update 3/16/14: From Rick: Tree Joyce last night made two trees on her own last night both trees had coon!
If you are interested finding out more information on the prospective litter or reserving a pup from a particular litter, please let us know. Please feel free to email us about our current breeding program and pup prospects and to be placed on our pup reserve list if you like what you hear!
Keep sending your pics. I will try to feature at least one pic monthly sent to us by proud pup owners!
News Board! We realize that we could update some of this older information but we feel it gives you an idea about our kennels, our philosophy and our dogs! Events are chronologically listed.
We were extremely honored to have our dogs posted on Every Dog Has Its Day on the UKC Coonhound Website on Friday 6/22/07 and through the weekend. Featuring our "Lone Pine Wild Annie" a last year pup really nailing the coon on her first time out. Also shown are Sharp Tooth Judy and Annie, another fine Lone Pine hound. You can see this picture in our Other Sharp Tooth Photos (along with a copy of the caption that was on the UKC website page) and Annie again in our Lone Pine Pups. Two other pups from that same cross are winning bench shows and are actively interested in tracking and treeing a coon. One is actively competing in water races and is really causing comment in treeing contests with his fast chop and big mouth. And two males are really making waves as young bear dogs. Please see their photos in My Photos. We are again amazed at the exceptional versatility and persistance of these dogs in the task they are given. Pictures are posted of these fine hounds in our Sharp Tooth Pups-Past and Present.
6/07 - News Update of Sharp Tooth Kennels: NTCH Lone Pine Cowboy's Jody, the dam of our last year's litter, has been qualified for the UKC World Championship hunt. Now this is not a small thing for us. Steve really just wants to hunt dogs, whether it be coon hunting, bear hunting or cat hunting. He is not into competition hunting any more so we really had to some fancy talking to get Steve to come out of retirement of competition hunting. You can see her pictures in the Nite Hunting Pictures and her daughter, Lone Pine Wild Annie in the Pup pics and More Sharp Tooth Photos. Annie at 10 months old started really showing promise in not only hunting the coon but water races as well.
7/07 - Jodie did it again at the UKC Youth Event World Qualifier. She once again is eligible for the World Youth Championships. We also had another winner at this event, Sharp Tooth Molly who won best of show female. We are very proud of our hounds and their young handlers, Bruce Hoopengardener with Jody, and Connor Poole with Molly. Pictures can be seen of both of these fine winners in Sharp Tooth Lone Pine Dogs and On the Bench. Congratulations guys!
6/08 - Sharp Tooth Kennels Judy (Cujo x Sable) wins UKC 2008 YEP World Qualifier in Eckhardt, MD. Events - Water Race both Line and Tree as well as Field Trials Line and Tree. This is her second Water Race First Place (both in a row and both Line and Tree). YEP handler was 6 yr old Bruce Hoopengardener..
7/08 - Sharp Tooth Kennels Judy wins Walker Sectional in Field Trials(Reg.) and Water Race (Reg.) Line and Tree in both divisions. This makes the 3rd water race in a row that Judy has won and she is now a Water Champion. See pics In The Water.
8/09 - Sharp Tooth Kennels Judy became a Grand Water Champion and Sharp Tooth Kennels Hercules won Champion of Champions Male and King of Show at the Treeing Walker Sectional held at Eckhart, MD on 8/22/09.
10/09 - Congratulations to Billy Boggs for his first place night hunt win and high scoring dog with Lone Pine Josie B at the Eckhart MD hunt on 10/10/09 and again with a first place win at Charlestown WV on 10/17/09. Josie can be found on our night hunt page and On the Bench page. She is out of Lone Pine Cowboy's Jody x Sharp Tooth Kennels Goliath (Cujo). She recently became a Grand Show Champion and is now really making her mark in the woods!
This past week we have had great testimonials from folks who have purchased pups born this past fall and winter and even this July. We have had folks drive in from the Northwest region of the US again to purchase more of our line of pups because they were so impressed with the last litter. You can read their testimonials on our Testimonial Pages. This entailed approximately a 5500 mile round trip. 9/2010 - Read about Jenk's (a Chyna x Raven cross born 1/09 and his first cat chase this year. Really remarkable for the conditions of the ground at the time he was hunting. Once again we can say enough about the amazing tracking ability of these hounds. You can read more about it on the Testimonial Page 2.
We can only say that we are very impressed at the great response of these pups to whatever game you wish to train them for, the versatility of these hounds for the types of terrain they easily adapt and thrive in and am thankful for the interest in keeping this line of hounds going for future generations to appreciate and enjoy. Please keep sending updates on your hounds. We love to hear about how they are doing and love to see your pictures. Read about Bear who is out of our 2008 Fall litter and I truly believe from what I am hearing is about to become a legend in his own right.
8/21/10 - Sharp Tooth Kennels dogs had a great day at the Walker Sectional at Eckhart MD. Sharp Tooth's Hercules, who is a Sage (World CH Handsome Hank) and Cujo (Lone Pine Cowboy x Slobber Slinging Poison) cross won Champion of Champions and King of Show in the Bench show. Another dog from our kennel and owned by Billy Boggs of Hedgesville, Lone Pine Jesse B won Champion of Champions Female and Queen of Show. And last but not least Lone Pine Babydoll won the night hunt with High Scoring Dog (550+ points). We are grateful that we have been blessed with the opportunity to continue to offer these great hounds that not only exemplify the conformation of the Walker breed but the top notch track and treeing ability in rough weather and terrain that this particular strain of walkers excels in. Check out our site and read more on our fine hounds.
Exciting News, October 9, 2010 Lone Pine Babydoll became a UKC Night Champion. She obtained it with 3 1st place UKC wins this year. See Baby on her own webpage - Babydoll. A great hound and a joy to hunt.
Take a look at two fine hounds we have on the Pups Past and Present Page. Here you will see two beautiful blanketback walkers out of this year's litters really nailing a caged coon on a tree. One is 5 months old and one is 7 months old. They are Lone Pine Finley River Lil and Lone Pine Finley River Odin. These are an example of our pups.
The great Christmas Pic we had of Tanner Folk and his new pup Lilly we had on this page for the holidays is not gone, only moved...Check out Testimonial Page 2 to read about Tanner and his Christmas surprise!
Update 2011. Many great things are continuing to happen here at Sharp tooth Kennels. Lone Pine Bear has earned his htx degree (going out by himself and treeing a coon with a judge). He now joins Bo (Wing Dinger) and Babydoll has been in one test so far and passed. Bear also won as high scoring dog in a night hunt July 30, 2011. This young hound is showing a lot of promise. He is coon crazy and really no nonsense in the woods. Keep you eye on this hound. Read more about Bear on our At Stud page.
Sharp Tooth Kennels Hercules is now a Grand Champion on the Show Bench. He is qualified in the World Champion Bench Show and for Lee Crawford Invitational for the second year in a row.
Update 2012 Sharp Tooth is now International! Sharp Tooth Kennels now has pups across the "big pond" in a country that borders Russia & Turkey called Ajerbaijan. They are going to be running big brown bears (what we call Grizzlys') We also have pups running bears in Canada as well.
6/12 Sharp Tooth's Lone Pine Finley River Odin is now a Show Champion! This boy is just not all looks, out of Sharp Tooth's Sable x GRCH Sharp Tooth Hercules, this pup can really run a track and and run it fast with his head in the air. He is massive not only in stature but has a huge head and has a huge voice in the woods. You can't miss this hound in the woods or out! Very much like his grandmother Sable. He is only 2 years old and is really going to make his mark!
8/12 - Hercules won King of Show, Grand Champion Male at TWBFA Sectional at Eckhart Mines, MD
11/3/12 November 3,2012 Hedgesville.WV. UKC Hunt Lone Pine Bear won. 1st Place registered High Scoring Dog of Hunt.
11/17/12 - Culpepper VA UKC Hunt LONE PINE BEAR won 1st Place Registered. Lone Pine Bear is now a Night Champion with 3 first place wins~~ two of those 3 wins Bear was high scoring dog of the hunt.
11/18/12, sadly we wish to say our two wonderful hounds Sharp Tooth Kennels Goliath (Cujo) and Lone Pine Francis passed away yesterday. Both wonderful hounds in the woods, solid and reliable and as a member of our family we will truly miss them. We are fortunate they have passed their wonderful traits to their offspring; many who are still in our kennel. Lone Pine Bear mentioned above is a son of both of these hounds. You can read more about them on our Tribute page.
News 2013
Great things are happening at Sharp Tooth Kennels. We have several exceptional crosses that are beautiful in conformation and already in the woods following tracks and treeing. These pups just seem to be naturals. A new dog on the AKC Show scene, Lone Pine Skull N Bones vom STK owned by Vicky and Roy Brachfeld. "Hunter Pie" as he is affectionately called is really making waves on the show circuit of AKC. Pie is a beautiful 2010 Lone Pine Ricky x Gooseneck Sassy cross from our kennel. Handled beautifully by Leah Ramsey, PIE will continue on his trek to next year's Westminster dog show. We will continue to monitor his progress!
4/7/13 - NITECH Lone Pine Bear Wins as high scoring dog at the Hedgesville night hunt. Go Bear!
5/25/13 Hercules won GRCH of Champions at Eckhart Mines RQE and is qualified for the World Show.
6/1/13 Sharp Tooth Kennels Odin (WCH FCH CH Sharp Tooth Kennels Judy x GRCH Sharp Tooth Kennels Hercules) won Champion of Champions Male in the Eckhart Mines Bench Show and NITECH Lone Pine Bear racked up another win in the Night Hunt! Great day for Sharp Tooth Kennels. 3 more wins for each to achieve Grand Champion Status.
10/5/13 Sharp Tooth Kennels Odin wins again at BBCHA Sectional in Eckhart MD...2 to go!
11/2/13 - Sharp Tooth Kennels Lone Pine Pearl has won her third Best of Show in a row becoming a show Champion. Thanks to Billy Boggs for showing her in her last two shows for us winning Best of Show both times!
3/2014 - STK's Lone Pine Finley River Odin is now a GRAND Champion. Thanks to Billy Boggs for finishing him out for us at the Berkeley Spring March Hunt!


We are currently breeding for future litters. Please check out our Litter Information - Upcoming Litters page. Contact us at sharptoothkennel@juno.com for any additional information on our planned crosses for 2013 or how to be placed on our contact list or reserve list for puppies.
Thank you for visiting our site. We hope that you take a look at our website and most importantly read what folks say about our hounds and see if its what you are looking for in your next coonhound.
ITS HERE! CHECK IT OUT!- SHARP TOOTH FINLEY RIVER TESTIMONIAL PAGE. If you have a Sharp Tooth Lone Pine pup and want to brag a bit, please send picture and comments on your special hound. sharptoothkennel@juno.com
It seems that almost every day we are talking to folks who have purchased hounds or pups from us. Every day we are hearing great things about your pups and dogs you have purchased from our kennel. Thank you. We truly love it. Its is always wonderful to hear the great success you are having with your Lone Pine Finley River hounds. Many times we update with your comments and add pictures you send to us. We truly appreciate the new pictures and testimonials you send our way. It's your stories~about your dogs, ITS YOUR TIME TO BRAG! so please.....
~~keep on sending them! We are constantly updating and want you there!!!
**Read testimonials on Sharp Tooth Lone Pine Finley River pups.
Pup Testimonials 2013-2014
A great testimonial received from Nils Balles of Three Springs PA re: his pup Gladys (out of Sharp Tooth Kennels Clementine x Gooseneck Willis. As received 7/4/14:
I love all my dogs. They are all sharptooth.Been waiting on our youngest Gladys knight. She`s just two. When we ask for your advice, keep hunting her. Lawd almighty, just like lightning strikes here comes Gladys. From the quiet she is deadly accurate. Strike and tree ;true predator. Always a coon and she has the mouth to bring us there without modern technology. We have purchased four hounds from you each is family and precious, but it keeps getting better;thanks for sharing. Steve,Lavena.......Don`t tell too many people! Nils
A testimonial received from another happy pup customer. Travis Ryan. Another great pup out of Sharp Tooth's Wild Annie x NITECH Mac's Ridge Runner Bandit. Born 4/1/13.Emailed by Travis Rec'd in Aug 1- He is doing good I messed with him more today he starts to eat at the cage now till he busts his lips open Update 9/12/13 Boomer is still doing awesome he is really starting to shape up and turn into a hound he is just about ready to start hitting the woods and bagging the fur.
Morgan, another Wild Annie x Bandit female born 4/1/13 owned by Josh Kreitz of Fairfield PA. Hi lavena, I've been working Morgan which is the pup I just got from you. She showed tons of potential last night. I worked them on a cat and those 2 really worked well. She hated that thing when they caught up to it. I was really happy with her. She is little but tries to keep up with him and just worked her butt off.
Roger Kloepping from Illinois purchased a pup from our spring litter. He got a beautiful female, Reba, out of our Wild Annie x Bandit cross which is currently 3-1/2 months old. Here is what Roger had to say about his pup at 11 weeks. "Lavena , I am pumped i caught a coon last nite for 2 older dogs put the coon in the back seat of the car had little Reba in the front seat with me, soon as she smelled it her hair came up she growled & barked at it all the way to turn it loose , then barked at it with the older dogs. she is awesome i bet this will make Steve smile it sure does me. i will keep you posted have a great day i am." Roger, and in another email he states" At her age that is something to brag about, i told you she wasnt afraid of anything haha. Have a great day. Roger Update received 6/14/13 Hi Lavena, Went hunting last nite took Reba along my Frost dog got treed Reba and i walked into the tree Reba began sniffing around on some limbs leaning against the tree and began treeing. She continues to amaze me... have a good day Roger .
12/30/13 - Got a nice update from Roger on Reba. She has been consistenly on track with the dogs and going to the tree. Just this past week she got it figured out and is treeing coon on her own! Great job Roger & Reba!
Bill Bailey got a pup out of Wild Annie x Ridge Runner Bandit who is a littermate to Roger Kloepping's pup. His female is doing great. Took out a barked on her own track twice and then finished one with his old dog barking every breath on the tree! He's thrilled!in MI is doing great! His pup was born 4/1/13. Great job folks. Hope to see some pics soon!
Got calls already on another of this year's litter of great pups. The pup Willis out of our Judy x Hercules litter born 1/1/13 is doing a great job running bears in Washington State. Dropped him in on his first bear run and he took it right through to the end! Go Willis.
Judy x Hercules Pup born 1/1/13 Received 9/10/13 - hey lavena and steve it rick from va just wanted to let you know that ghost has started to run and tree on his own he just turned 8-months on the 1st and is doing a great job he is out of Hercules and judy I need to make plans one weekend to come up and hunt with ya!
Dan Robiadek from MI Rambo, a STK's Lone Pine Betty Boop x Sharp tooth Kennels Hercules Pup - born 3/12/13 email received 7/12/13- Rambo is doing great I got him swimming with the big dogs there's lots of go in him can't wait to get him on some bears
Donovan Traggai - Received 6/27/13
Hi Steve and Lavena:

I just wanted to let you know that "IVY" is growing quickly and has been a great pup so far. She was a hercules x stylish babe cross incase you have forgotten. I havent begun any training yet, just teaching to walk on a leash and come when i call. She progressing in both areas but listens pretty well. I have shown her a coon hide which she immediately attacked and started shaking. I was wondering if you thought it was time to start her on a roll cage (she is about 4 months). Any advice would be greatly appreciated keeping in mind im going to train without another hound since my friends dogs are competition hunters which is not what i want. I will send pics soon so you can see how she has grown.

Thanks Again

Donovan

Updated from Donovan received 11/9/13:

Hi Steve and Lavena:

I wanted to let you know how ivy was doing(stylish babe x hercules). I have been giving her coon in a roll cage for several weeks and since trapping season opened nearly every evening. Its amazing how much she improved over the last few weeks. At first i couldnt hold her attention and now she is running and treeing most of them. I decided to take her out last night to see what she would do and she immediately opened up on a coon 50 yards from the truck and ran it 200 yards up the valley we were hunting. when she ended the track she barked tree for a minute then realized she was alone and came running back. with a little encouragement i got her back on track and when i arrived she was tapping a tree and running a small loop back to the same tree - no coon in it but a good first try. she also struck two other short tracks before we left. I couldnt be happier with her progress only being 8 months old. im carrying a camera so i can hopefully send you a picture of her first coon real soon. thanks for the great pup and all the training advice you have offered. If steve has any more training suggestions to help her along i always appreciate them.

Thanks Again

Donovan Traggiai


Great Job Donovan & Ivy...look forward to hearing more of Ivy's progress. She's is doing fantastic for a 8 month old pup!

received 3/1/14

Hi steve and lavena'

its Donovan from Butler, pa. Wanted to let you know my "Ivy" dog (Hercules x Stylish Babe) treed her first coon Saturday night. Its taking longer than I anticipated but she is doing well. unfortunately the weather here had all training shut down since deer season, its been freezing. anyway, a couple nights and she was running again and finally finished a track. remember im training without other dogs so its been tough but she is turning into a fine hound. thanks again

You are doing great Donovan and so is IVY. This has been a real tough winter to hunt let alone train a pup and do it by yourself. Sounds like she is gonna be a real hound! Keep up the good work!

Looks like hard and consistent work pays off! Read the following email received from Donovan on 4/20/14

Hey Lavena:

Donovan from butler, thought you might like to know ivy has flipped the switch. She been averaging three trees a night. took her out with two night champions that already have wins toward grand and she held her own. got first strike three times and helped tree 4 out of 5 coon and broke off to tree a 6th on her own. very proud of her. cant wait till I can start knocking down fur to her, she is going to go crazy. I know you want pics, ill try to get you some soon. thanks again

Looking forward to those pics Donovan! Congrats to you and IVY!
9/14/13 - Received the following email from Nolan Crowther in Idaho. Nolan has purchased 3 fine pups from us, trained over the past 2 years. He currently has purchased a pup out of our Lil x Bear cross that is being trained by us. Nolan hunts bears and big cats and you can see some of his cats on our testimonial page. Here is what Noland had to say about our hounds. We were out chasing bears today had 2 of your female dogs with us today lead pack of 9 dogs all day. I love these dogs very fast and have terrific nose. We will be running males on Thursday Tracker will be going. Best dog I have ever bought. You don't find people like Steve and Levena every day. I will be purchasing another puppy next year. All three dogs are doing great could not ask for better dogs. Nolan
Update 10/3/13 - received from Nolan Tracker is one fast dog. Fred (newest dog out of STK Lone Pine Finley River LIL x NITECH Lone Pine Bear htx, still at STK for training) better get his running shoes on if he is going to keep up with him. All in all our pack of dogs are really improving are looking forward to spring bear season with 4 sharp tooth dogs we are going to be hard to out run for any bear. Nolan
UPDATE 10/29/14 - Got an update from Nolan on the pup we sent him earlier this year out of Lone Pine Lil (Gooseneck Anne x Willis) and Lone Pine Bear (Lone Pine Francis x Sharp Tooth's Goliath (Cujo). Here is what Nolan had to say about "Fred" "Steve, Fred is turning out to be the best dog I own just thought I would let you know". Steve also talked to Nolan by phone this date....Fred doing real good job with bears but what he is really shining on is running mountain lions. Thanks Nolan for keeping us up to date with how your pups are doing!
1/20/14 - Received the following from Rick Haines in Virginia. Rick got a Wild Annie x Bandit cross born 4/1/13. Here is what he had to say. Hi Steve and lavena:
Its rick from va just wanted to give you an update on Joyce whos out of wild Annie and bandit. She has really flipped the light on... done had her out almost every night last week and she's treed 8 coons buy her self and they are wild coons without feeder buckets. For only being 9-months old i'm amazed on how well she's turning out so far... knock on wood lol. When she trees the meat is there. i'll send some pic and keep u posted thanks again for another fine hound. rick
3/30/14 - Received from Steve Hosmer. Steve purchased a last year's WCH FCH CH Sharp Tooth's Judy x GRCH Sharp Tooth Kennels Hercules female. Here is what he says:
Update

Princes is seven moths old, she is almost done with first heat. Quite the moody experience for her but we made it through. I got a coon last night and did a long drag with it around the house. Princess immediately hit the trail started running then opened up. I had it tied in a tree and she did an amazing job barking and staying put. For a pup to not leave the tree is amazing. I know she will be ready to go this fall. Going to make an even longer trail later over the next few days to keep her attention. I know she will have no trouble finding the coon. Super excited for the great dog and the amazing hunting we are going to have in about six months. Can't wait to show her off to you when we come visit for a hunt. Thanks again.
update received 6/9/14
princess has been chasing alot but not holding tree.. its ok she is a baby
still.. so last night i had her meet a small coon-ten pounds and she did amazing she
chased it up the tree held tree then finished it off after some softening, she got nipped
but went right back at it with a brand of crazy i have never seen. she needed a bath to
get all the red off her from the coon. i am sure she will be ready by this fall to get
some fur. thanks again for the great dog.

steve


Steve Hosmer

1/4/13 - Congratulations to William Brooks and Lone Pine Zoe's Meltdown for their win at the 2013 Grand American. Finished 18th overall and 10th in the Registered cast! Great job! Pic of William and Zoe on the Testimonial Page!
Here is a great testimonial from Dave Jenniges from MN who got two pups from us out of last years' December litter of Sharp Tooth Kennels Hercules x Sharp Tooth Kennels Judy. Here's what he has to say!
"Thanks again for everything. here are some photos of Red and Bones through training and there first kills over the season they ended up treeing 43 coon and rarely broke off trail for other game. we trained for coon and that's what they hunt very impressed with both of them. the whiter one bones has an awesome nose, even on cold nights when the coon arent really running far from there den he seems to find them. unfortunately we cant get denned up ones so we leave them but we see coon hair most times were there bawling. the two groups of coon in the photos were the first two hunts they ever did. 8 coon 3 locations one night. 10 coon the second hunt and only two locations. i hope this testimony will help others skeptical of trying it is way to easy with great dogs like these "
David Jenniges
( You can see the pictures received with this testimonial on the Testimonial Pages of this website.)
1/2013 Here is a real nice testimonial posted by Bruce on the UKC message forum about the pups he got from us.
Sharptooth pups
I purchased two pups last year out of Sharptooth Bear.
They were two of the best pups I have ever raised, and I have raised a lot of pups. They were nine months old at the start of the 2012 bear training season. I sent one to Virginia with a friend to hunt him for me and I hunted one. By the end of the season he had been on a total of 35 bears between training season and kill season. He was put in at the start and packed in on several occasions. That pup never quit one race. He treed as good as any of the older dogs as well as stayed with the mean ones on the ground. I have never had a pup under a year old do that well. My buddy John who was hunting his brother said he was doing just as well and was responsible for strightening out one track that the old dogs took backwards, he tried to buy him that night. Steve and Levina were great people to deal with. I have one other pup from them that is now six months old and he is doing a great, i had a man from WV. offer me a Thousand dollars for him. They raise some nice pups, get one if you can. If you look on there web sight you can see my pups treeing and grabbing some bears.
You can see Bruce's Pups on our Bear Hunt with Sharp Tooth Pups page.
8/7/12 - Got a great call and text from Bruce Myers. He has two young dogs out of our Lone Pine Bear who are really taking off. They are only 9 months old now and he turned the one pup loose on a 250 lb bear. The pup ran and treed it with a nice change over on tree, they knocked the bear down again and turned the pup loose who ran it again and then treed again. Bruce said the pup did a real nice job. Pic of the bear is featured in the Pup of the Month above.
8/6/12 - Got a great call from Ezra Balles. His young pup Amber (out of Sharp Tooth's Mox Mox x Sharp tooth Kennels Hercules at 8 months did a terrific job of running a track and treeing with his dad's dog Duke. He is very proud of her as he should be. See more on this young pup in the Testimonial pages.
7/22/12 - Bear Hunters take note...Please check out the Bear Hunt with Sharp Tooth Pups page. Stephen Dix just sent some new pics of his two males (now currently 2 years old) Tell and Copper on bear. Please see the updated Bear Hunt with Sharp Tooth Pups page. We also have some great pics submitted by Bruce Myers of New Jersey of a bear hunt in Maine with two real nice 8 month old pups he purchased from us out of Lone Pine Bear. I might also add that the sire of Stephen Dix's Copper dog is Hercules who has a real nice litter of pups currently available out of Katie2 that are ready to go.
7/14/12 - Just Got this great email from Scott Little in WV. regarding his 8 month old male out of Everhart's Patty and Lone Pine Bear. Hello I got the one eyed pup off of Sonny, out of Bear. (Lone Pine Bear) I've spent alot of time with him but didn't show him a coon till yesterday. At first he didn't know what to make of it, but something clicked and he went crazy. I held him and my buddy turned the coon loose. He saw the coon and it went up the first tree it came to. He circled the tree a few times and went to treeing. I've had him out quite a bit in the day time and a few times at night, he hunts real good for a pup, loves water, not afraid to get away from you. I talked to Bruce Myers today hes in Maine. He told me that my pups brother and the female that I sold him thats out of WILLIS both were in on their first bear tree.He said they ran the front. The female came from Terry Bartles he bought her from you. I thought you might want the update. I think my pup might be special and not because he only has one eye. Scott Little
10/13/11 - Just got a wonderful testimonial from Doug Hamel in Wyoming. He purchased two older pups from us this spring for big cat hounds. The one pup kept running a bear from behind the house so we knew it had potential. Here is what Doug has to say about his pups.
Finally had so snow here and went hunting. I only took Buster as I was not sure what would happen with two young dogs. We did tree a lion but what I wanted to tell you that on the track Buster did so well that he will replace my number two dog and on my next trip I will take two young dogs for the other one is doing just as well, just thought you might want to know. Thanks again Doug
7/28/11 Stephen Dix from Vermont is raving about his Lone Pine Finley River hounds in their first bear season. Check out our updated Bear Hunt With Sharp Tooth Hounds page for pics on his young hounds, 2 are just 1 year old. He says he has an absolutely amazing video of the 3 dogs with a bear that he is sending...will update the website when we receive it.
Received the following from Terry Brookshire (currently in WV). 7/16/11 - Terry purchased a Sharp Tooth Judy x Lone Pine Wing Dinger "Bo" pup that is just 9 months old. Hello, hope all is well. Just wanted let you know my pup has treed with older dog last 2 times (that I ) have taken her. She has treed a couple times on her own but couldn't find the coon~ but sure the last time she had it. She gonna make a fine dog ~ thanks Terry
7/25/11-Received this update from Terry (Now in Lousiana)- Thanks Steve an Lavena I killed my first coon this morning with the pup i got from ya'll . As you know she only 9 months old. What a nice pup. Took her by herself an she did it by the book. Thanks again ~ talk with yall soon. Terry UPDATE 2/21/12 - Just got a call from Terry ~~his pup won her first UKC night hunt. UPDATE 2/25/12 - Got another call from Terry - Came in 2nd in "Girlfriend's" next UKC HUNT! ONE MORE AND SHE'S A NIGHT CHAMPION. This pup is 16 months old! WOW~~
UPDATE 4/8/12 ~~TERRY'S 18 MONTH OLD PUP "Girlfriend" IS NOW A NIGHT CHAMPION!!!/Congratulations Terry!
Update 8/13 - Terry emailed us that Girlfriend is now a Water Champion! Congratulations!
7/16/11 - A wonderful testimonial from Linda and Carl Walker of NY. They got a pretty Sharp Tooth Judy x NITECH Lone Pine Wing Dinger "Bo" puppy. At this time she would be 9 months old.
Thought you might like to see how our Gem is doing. She is doing great and we think she is a beautiful dog. She seems to have a natural desire when it comes to coon hunting. Training season has just started here and we can't wait to see how she does when hunting season starts.

3/30/11 - We got a wonderful email from Nils Balles regarding his two males out of Lone Pine Babydoll & Lone Pine Wing Dinger (Bo) born 7/2009. When Nils and his family first picked out their pups they were looking for family pets. The coonhunting bug quickly bit Nils and his pups were more than happy to oblige him in this. Pics are on the Testimonal page 1.
Hello folks, if the pics are clear enough feel free to post some of them. Otherwise, I will send you some fresh ones as soon as we capture more nite hunts.
Bo is the black saddled pup. He went in the test hunt last weekend. Duke is the white background with spots. Additional comments on the pups:
We have never owned coonhounds and were advised by others that they can be contrary and difficult to manner. We are a family of 7, ages 8 up to young teens. These pups have filled a void in every family members life from being tender loving house pets to performing on hunts beyond our largest expectations. Bo and Duke are naturally eager to please, quick to understand what is expected of them as our companions and friends. As coonhounds, it has been difficult for me to stay humble about them.
They turn heads and get the highest of praise from others who hunt with us. Ferocity on the hunt,the music they create on track and devotion to keeping there coon treed is legend.
We did not realize what we had in these pups until we started attending shows and different hunts.
The attention to detail and vision to refine this breed of hound is now obvious to us. Thank you, Steve and Lavena for allowing us the opportunity to own these fine hounds.
Sincerely, Nils Balles
2/26/11 Check out Curtis Shelton's report on his Annie x Nantan pup that is just 11 months old on the Testimonial Page 2. We are also hearing great things on other Annie Nantan Pups like the one Leroy Brooks Jr owns in South Carolina, a nice big pup with a tremendous big track and tree voice. also only 11 months old. The pup is doing a wonderful job tracking and treeing along with a really nice Anne x Willis female he got from us as well just over a year old. Also read below about another Annie x Nantan Pup that Stephen Dix has in Vermont. The proof is in the pudding and these pups are consistently showing great tracking and treeing ablities exemplified in the early Lone Pine Finley River hounds.
1/11/11 - Got a great pic from Stephen Dix in Vermont of two young pups he got from our kennel treeing on a Bobcat that Tell (8 mo. old) tracked and treed. Copper was raising such a fit that they turned him loose on it too.You can see this on the Testimonial Page (1). According to Stephen these pups are doing a phenominal job. Stephen runs bears, bobcats and coons and it looks like these pups are off to a great start.
11/4/10 - Got an email from Dan"Bull" Kudseil in VA re: his Francis x Thunderbolt pup born in 7/09. This is what he has to say "I'm writing to give ya an update and some good news on Jackie. She treed her first wild coon by herself last night where i actually seen the coon. We still have a lot of leaves on the trees, so been hard to find anything. but wow she looked good last night. I was hunting her with a broke english dog, and the track was only about 100 yards, but she struck first, ran the track, then located just like old bolt. Iit brought back a lot of good memories. Then she hammered down on the tree before the english dog had a clue what was going on. she burned that track up, and she did it with such style. Now that she has finally crossed that line, I'm really excited to see what happens with the weeks to come." We are too Bull, keep us posted of her progress!!!
10/16/10 - David Smith from PA called and spoke to Steve. He just wanted to let us know how extremely pleased he was with the two dogs he received from our kennels. One male, who is a Francis x Cujo cross is doing phenominally well. He is just shy of 2 years old and last year treed 100 coon himself. This year he is aiming for 200. He also has another male, a Sage x Cujo cross is doing a great job in the woods as well. He has had a lot of hounds but said these are the best tracking and treeing hounds he has ever had. Thanks David. We truly appreciate your comments and your support for our old bloodlines. David is not a competition hunter, he hunts for hides and lives in rough rugged terrain. He wants hounds that are solid and straight and have the game when he gets there.
4/10 - Curtis Shelton and his dad came in from the western part of Indiana last year and got a pup from the Anne x Tucker cross and one of the Baby x Bo (Wing Dinger) cross. Rhino is the Anne Tucker cross and is now 10 months old. Now it has been written and talked about the famous Finley River Lone Pine nose on these hounds. Read what Curtis writes about Rhino. "Last night I got home about 11:30 and had just got into bed. And was it very warm night and we had a strong south wind and all of a sudden Rhino my almost 10 month old pup started barking and he would not stop so I got up and went outside to see what was going on. I shined my light all around and there is a fence line about 1\2 a mile south of my house and I saw 2 pair of eyes in the tree so I was like no way thats what he is going crazy over. So I let him out and he went barking off and straight to the tree and was treeing like crazy. I shot 1 of them out to him and it was a big boar and that coon got ahold of Rhino and he went from a puppy to one pisssed off dog and really gave that coon hell. I just couldn't believe that he winded those coons in his pen from that far away and when I let him out he went straight for them like a pro. It was awesome. I can't wait to bring him out and hunt with you guys soon!!!!"
1/23/10: Curtis Shelton from Indiana writes:
Hello Steve & Lavena
I took Rhino my 8 month old out hunting last night with my cousin and his dog. He did very good, I figured since it was the first time he had been out at night and the first time he had been around another dog that he would just stay close to us guys but he didnt he took right off on his own. We heard him bark a few times and then he came into my cousins dog once he treed. I was happy that he went out on his own. Then on the second turn out we turned out on a small water way and Rhino had first strike (it was awesome) so they both took off up the water way barking like mad and then they both treed the coon about 200 yards from the first strike. So we shot out the coon with a head shot so that it was dead before it hit the ground and Rhino went right for it when it hit the ground. I was crazy happy and I'm still smiling about it. I could go on and on about last night. But just so you know!! YOUR DOGS ARE AWESOME!!! and I will definately be buying more pups from you in the future. Thank you for everything you guys have taught me alot and I've said it before and will say it again and again Your breed of walkers is awesome and you definately have the best of the best. Talk to you soon. I can't wait to come back and hunt with you guys again.
Curtis purchased two pups from us last fall and has been coming back to PA to hunt with us and learn about the old time Lone Pine Finley River hounds that we raise. The one pup mentioned above is from the Anne x Tucker cross (Rhino) and the other is from our Baby x Bo cross. You can see these fine pups in training on the Pups Past and Present page. Watch for more on these up and coming young hounds.
Steven Dix in Vermont writes on 10/16/09 about the Pups from the Francis/Cujo cross (10 months) and the Francis/Bolt cross(13 wks) "Just letting you know that the two pups that I got from you are doing good. We have killed 2 coons with them at the tree and Mia (10 month) is starting to go with the big dogs. The little pup will bark at the tree some and when we shoot the coon down to her she goes crazy. I think that they will be really good little dogs by next spring! I will send you some pix when I get a chance." Update 11/03/09 (approx 3 weeks from last testimonial) I can't get the pix from my computer but I am still trying. We have killed 13 coon with Mia and Moly my good walker female and the little pup has been with us for 5 of them and she really wants to go with the big dogs but I wont let her go yet because I dont' want her to get stepped on at the tree by the big dogs. Steven called Steve late 11/09 - Mia is treeing coons by herself and has been on 3 bear chases so far. He is really tickled with both pups from us. Says the little one really wants to go and hates to be left behind.
UPDATE 10/10 - Steven has called and talked to Steve. He is extremely satisifed with the pups he purchased from us. Mia has been treeing bears by herself. He is extremely satisfied with her, I think the count was 8 for last year and Steven is getting ready to start his new bear season with her. She is not quite 2 years old yet. The other little pup out of Francis x Bolt is a real coon dog, she really wants to go along on bear but she is a little small for it. Steven has added a pup out of the Vicky x Hercules cross to his kennel of fine Lone Pine Finley River hounds.

Pups from the Francis/Cujo cross are really coming on. Read what Deanne and Gary from Oregon say about 2 of these pups at 5-1/2 months old. The girls have already been working great they have a lot to learn but they did pick up a track on a cat (mountain lion) that was 2 days old and followed it up behind the house for about 300 yards. We were so excited!!!! I want to get pics of the girls tracking already to send to you. The sure have grown since they got here. (We do have some pictures on our Testimonial page-please check out.) These pups are under a year and tracking cat, coon and the little male has had a good start with bear! And we're waiting to see more updates on these pups too! Well these pups have done so impressively well for Gary and Deanne they have since been back to PA to get 4 more Lone Pine Finley's to add to their "pack". We'll be waiting to hear of many more adventures from the Oregon bunch! 11/22/09 -Gary says thanks so much for the great dogs, he would never buy another dog from any where else. They are great dogs and he believes you could not find any better hounds out on the market than yours.

Pups from the Sage/Cujo cross have been really impressive for starting early and being relentless in their quests. One pup we have here started actively running with the big dogs at 5 months of age, at 6 months his sister is starting too and just won best of show in her very first show. These pups have big bawl mouths. There is no trouble hearing them in the woods. Nice conformation and common sense are consistant traits in Cujo's pups. Read other testimonials on Goliath (Cujo)' pups. We have two here at the kennel and they are quite impressive. Read all about them on our Sharp Tooth Update 08 page.
Joe Walton originally contacted us while stationed in Iraq and we have been communicating with him for several months. Upon finishing his third tour (quite a commendation on this young man for sure!) he and his friend Johnny came to visit our kennel to learn about our hounds. We were very impressed with these boys and hope you will check in with them if you are in their area.
Testimonials from Lone Pine Pup Owner Chris Humphries who purchased 2 males last year from the Lone Pine Cowboy's Jody and Sharp Tooth Goliath (Cujo) cross. These pups were born early August 2006.
This is from an email dated June 16, 2007 - from Chris Humphries, VA "I am very pleased with them so far. they mind well and handle very good. Even though they were young I hunted them during bear season, they grew fast and were as big as the other hounds. showed alot of interest in a bear. hunted them loose the whole time and never had no trouble out of them and they even made a couple short runs. One day they ran for almost an hour and when they stopped, they back tracked themselves to the truck. we got to listen to them the whole time they ran. they couldnt keep up with the older dogs of course but they did one hell of a job for pups barely 5 months old. I can't wait till August when chase season comes in. I must add they are beautiful dogs!"
Another email dated 11/1/07 - "An Update on Pups: Wasn't able to get any photos of my 2 dogs on any trees during chase season on bear here in Virginia. Our season was long hot and dry. We didn't tree that many bear though we ran them everyday we hunted. My 2 pups made 1 tree though on the last day of the season and we couldn't keep the bear up long enough to get any pics. Critter the black headed pup is the faster of the 2 and the hardest tree dog I've ever owned. Don't get me wrong though Sap is plenty fast also but not quite the tree dog. Both will grab hold and fight the hell out of a bear. Been going out at at every opportunity for training and they are striking off the back of the truck and have made every tree at the end of every chase I've put them on. They both are a joy to hunt and can't wait til December for bear season to come in. I'm so glad that I found your web site and purchased these 2 fine hounds. I will get you some pics as soon as possible. I've never seen walkers look like this before; these dogs are huge and have the biggest heads, the longest ears, and both way over 80 pounds without an ounce of fat on their body. I want to thank you again for these 2 fine hounds and I hope to get you some pics soon." Chris Humphries
Check out Critter in Lone Pine Pups Past and Present. Pictures of both Critter and Sap are in the My Photo's Section in their first year's bear hunt as one year olds.
Another pup from this same Litter, Lone Pine Josie B is a dream to own and to hunt says proud owner Billy Boggs. Josie has a lot of energy and drive which she displays when you let her out of the box. She is all business on track, doesn't tree trash, and will stay treed until you come to get her (even if it takes an hour or two). She has a big booming voice and beautiful confirmation. You can see this beauty in our Lone Pine Pups and On the Bench. She is also featured in our Night Hunt pics!
Check out our pups from this litter and other litters of our Lone Pine Finley River hounds. You will find them featured along with their owners on our Lone Pine Pups page and also On the Bench page and our Testimonial pages. They have the conformation needed for show, the burning desire to hunt and quick to learn.
12/10 - Found a great picture of Sable treeing from our "archives". Check her out on the Tribute page.
Please note I am constantly updating and changing our site around. I do this to keep everyone updated on what we are doing and more importantly what our dogs or pups from our kennels are doing. Therefore many pictures are added, deleted or moved to another page. Keep your testimonials and pictures of your pups coming as well so as to keep our testimonial page up to date!
email sharptoothkennel@juno.com for more information on our hounds.
We also have young started dogs on occassion. Please feel free to check with us.
---
Please feel free to check out our pictures. Happy Hunting!
Thank you for visiting our site.